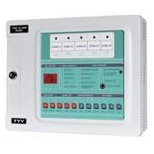 TYY's YF-1 series Fire Alarm Control Panel provide a large capacity of supervised Class A or B (UL Style D or B) Initiating Circuits and supervised Class A or B (UL Style Z or Y) Indicating Circuits.
* Two-Stage Alarm Delay Function: Fire detection requires accumulation time to confirm and reset the detector for second stage detecting accumulation. This way can reduce false alarm caused by interference and enhance the reliability
* Highly Reliable Design with less maintenance required.
* Surge Protection: The power module with lightning surge protection device avoids any damage caused by abnormal high voltage
* Digital detection of voltage error: whenever a voltage error is detected, an alarm will sound and an indicator will light on
* No limit for heat detectors and up to 29 smoke detectors can be connected per loop.
* Standby Battery Protection Device: While there is a blackout or the standby battery is under 18V DC, it will automatically stop discharging to extend battery life.