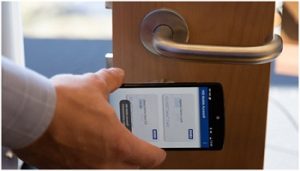 HID Global®, a worldwide leader in trusted identity solutions, has announced that its HID Mobile Access® solution, powered by Seos®, has been selected by Star India, the country's largest multimedia entertainment company, to secure the entrances and doors of its Mumbai headquarters. Star India issued 2,500 mobile IDs to its employees' smartphones and installed numerous mobile-ready iCLASS SE® readers at doors and gates throughout the 32-story building.
"As India's largest multimedia company, we have extremely high security standards," said Sumir Yadav, Senior Vice President (Administration and Facilities) with Star India. "HID Global, known for being the market leader of access control solutions, was able to fulfill all our requirements. With HID Mobile Access, we can now take advantage of the latest technology in this mobile-first age and achieve better security without being intrusive or compromising the user experience."
Mobile IDs, a core component of HID Mobile Access, were provisioned via the solution's robust online portal, making it possible for Star India's IT administrators to issue or revoke mobile IDs quickly, easily and efficiently. Whenever a new employee joins the company, the IT administrators can effortlessly enroll them into the system by simply sending the employee an email invitation. The system-generated email contains directions and an activation code for the recipient to download and use the HID Mobile Access App. Upon entering the code and successfully activating the app, the employee can begin using their mobile device to unlock doors and gates at Star India.
Feedback on HID Mobile Access from Star India employees has been positive, and the company is currently exploring options to deploy HID Mobile Access to secure its canteen as well as its collaboration spaces. Star India is also considering expanding the scope of the solution to cover the management of its visitor and enable secure printing in the future.