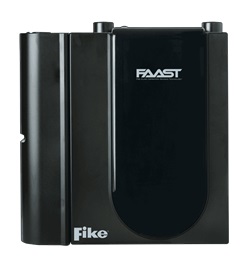 Fike's intelligent early warning detection system, FAAST uses an advanced, intelligent smoke detector that actively draws air into its sensor through a pipe network, enabling FAAST to deliver highly accurate early warning detection for a wide variety of environments/applications.
FAAST's smoke detection performance is built around its unique Dual Vision sensing technology. This sensor utilizes an extremely sensitive blue LED to provide very early warning fire detection and an infrared laser to identify nuisances like dust that can cause false alarms and expensive downtime. The detector interprets signals from both sources to provide the earliest and most accurate warning of the widest range of fires available.
Like other Fike fire alarm products, FAAST combines advanced communications and programming capabilities with an extensive range of customizable settings. When Internet-connected, FAAST can e-mail status updates to appropriate personnel, and the detector can communicate information such as alarm levels, urgent and minor faults, and isolate inputs. In addition, the versatile FAAST has multiple display options for even greater application flexibility.
FAAST is a detector that acts, reports and programs similar to any other intelligent device. A fully integrated part of Fike's family of fire alarm and releasing panels, FAAST is easily programmable, reducing overall cost and commissioning of the entire system. And FAAST's superior sensitivity, nuisance discrimination, and onboard networking capabilities give users the information they need to deal with a problem at its earliest stages, so they can act before disaster strikes.