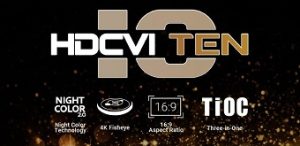 Dahua Technology, a pioneer, video-centric, provider of smart IoT solutions, is celebrating the 10th anniversary of its patented High Definition Composite Video Interface (HDCVI) technology.
Since the introduction of HDCVI in 2012, Dahua has been at the forefront of delivering long-distance HD transmission and seamless upgrade experiences for analogue systems users. As an open, HD-over-coax solution, the HDCVI portfolio reached a major milestone in 2015 when it released the industry's first 4K fixed and 4K fisheye cameras — the highest resolution available for HD-over-coax at the time. HDCVI recorders introduced Penta-brid technology, which seamlessly records video from HDCVI, AHD, TVI, CVBS, and IP sources simultaneously.
Since then, Dahua has continually evolved its HDCVI portfolio to deliver the latest video surveillance capabilities without the complexity and added expense of converting to an IP system. "We are excited to announce our new HDCVI offering is strengthened by several innovative technologies," said Jennifer Hackenburg, Product Marketing Director at Dahua Technology USA. "These solutions are designed to greatly improve the operational efficiency of analogue systems while expanding the range of application scenarios."
The new 5MP, 2.8mm Three-in-One (TiOC) eyeball camera (A52CJC2) controls light pollution with its Smart Dual Illumination mode. The camera intelligently switches between the IR mode when there is no target in the scene and white-light mode when a target is detected.
This model is ideal for applications where you don't want white-light LEDs on all night. The camera's feature sets can deter criminal behaviour with a warning siren and flashing red and blue lights.
Night Colour 2.0 offers 2MP, 5MP, and now 4K resolution (A82CJN2) options in eyeball and bullet housings. Night Colour 2.0 technology integrates white-light LEDs for full-colour monitoring in low-light conditions capturing vivid, colour images in dark scenarios. For scenes with high-contrast lighting conditions, Dahua's full line of Night Colour cameras features Super Adapt Technology for capturing the perfect image. The technology adjusts the settings automatically regardless of the scene for the most optimised image performance.