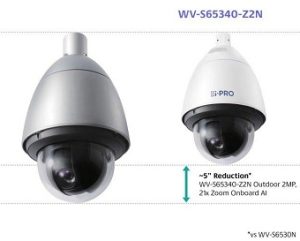 I-Pro has added AI to its PTZ (pan, tilt, zoom) cameras and revamped the entire PTZ range, adding a total of 35 new cameras. I-Pro has added its first AI-enabled PTZ cameras to the S-Series. The cameras include a powerful built-in AI processor enabling advanced automatic tracking to make operators' lives much easier. The cameras, equipped with the highest levels of cyber security, can run two different Deep Learning AI applications at the edge of the network, reducing load and server infrastructure costs. Thanks to I-Pro's open platform AI strategy, the Software Developer Kit (SDK) can also be used to integrate 3rd party specialist applications.
For the first time, I-Pro has also added PTZ cameras to its U-Series, its cost effective range for the most price sensitive installations. This addition is further evidence of I-Pro's commitment to listen to market demands and to be fast and flexible in responding to needs.
The new S-Series PTZ cameras are designed to make operators' lives easier with smarter, smoother and simpler operation. They deliver improved image quality, especially in low lighting, with the latest image sensors and lenses to improve accuracy and prevent false alarms. The powerful onboard Ambarella AI processor supports advanced auto-tracking which can assist operators by automatically detecting, zooming in on, and tracking people, vehicles, and bicycles, as well as the unique attributes of detected objects such as colour and type.
Security operators will also notice faster PTZ response times during preset operation and improvements in auto-focus in manual operation, ensuring the operator has access to consistently sharp images. Available in 2MP and 5MP resolutions and offering 21x-40x zoom ratios in indoor and outdoor settings, the S-Series PTZ cameras come in a wide range of options such as smoke dome, salt resistant, and black models. With IP66/IP67 protection against dust and water and IK10 impact resistance, the outdoor S-Series PTZs are built to withstand challenging outdoor environments and can operate effectively in any temperatures.
The new U-Series PTZ camera is the smaller brother to the S-Series, designed for projects that do not require AI functionality but still need the core benefits of I-Pro's quality, reliability and cyber security. The cameras offer customers a cost effective, easy install and cyber secure PTZ with leading image quality even in low lighting situations. Available in 2MP resolutions with 3.1x-21x zoom ratios in indoor and outdoor settings. The new U-Series PTZ outdoor models meet IP66 and IK10 impact resistance standards.
The PTZ cameras in both series benefit from a new modern design in a smaller form factor that is similar in size to many dome cameras. This convenient size along with outstanding low light performance, means the cameras can be conveniently installed in almost any position and still produce high quality images and accuracy of object detection to reduce false alarms. Both camera line-ups have also achieved the highest level of cybersecurity for peace of mind with FIPS 140-2 level 3 certification.