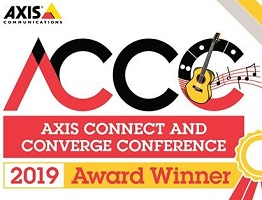 Within the past year, Convergint Technologies has delivered a number of integrated security solutions for cities and municipalities of all sizes. Convergint's efforts in making cities safer and smarter have been recognised by its long-term industry partner, Axis Communications. Axis, the market leader in network video, has named Convergint its City Surveillance Partner of the year.
In addition to presenting this honorary title, Axis has also awarded Convergint with its 2019 Social Responsibility Award, which came as a recognition of Convergint's company-wide commitment to social responsibility.
"Convergint is dedicated to providing cities with comprehensive video surveillance solutions that promote public safety and also make them more efficient. And we feel especially honoured for receiving the City Surveillance Partner of the Year Award from Axis Communications." Tony Varco, Vice President of Security, Convergint.
The 2019 City Surveillance Partner of the Year award stands for Convergint's exemplary success and loyalty, delivering complex, and innovative video surveillance solutions that help cities across the U.S. and internationally strengthen safety, improve situational awareness and enhance operational efficiency.