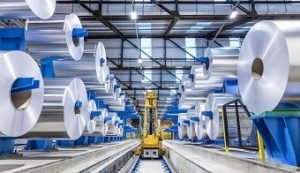 STANLEY Security, one of the UK's renowned security providers, has completed a major CCTV installation for Bridgnorth Aluminium Limited, the UK's only manufacturer of aluminium flat rolled products.
At 27 hectares, Bridgnorth Aluminium's site in Bridgnorth, Shropshire is extensive. It is home to a casthouse, rolling mill, two litho centres, a multi-slitting line and finishing lines.
The company had previously been using three separate CCTV systems, each covering different parts of this large site, one of which was over 15 years old, had very poor image quality and was starting to show signs of failure. Furthermore, none of the CCTV systems had any level of redundancy, so if one failed access to those particular cameras were lost, along with any recorded footage.
Steve Denton, IT Manager at Bridgnorth Aluminium, explains the decision to upgrade, stating "We needed to consolidate everything into one single CCTV system, including all of the cameras from the other three systems, and we needed to add a level of redundancy. The IP CCTV system is critical to our business in terms of health and safety of our employees and site security."
Following detailed discussions with Bridgnorth Aluminium, STANLEY Security designed a new site wide IP based CCTV system, covering external areas and the perimeter of the site, along with internal areas including key indoor production spaces. The system takes advantage of Bridgnorth Aluminium's existing IP network which is deployed in most areas of the site, negating the need to install COAX cable. Opting for an IP-based CCTV system has also enabled Bridgnorth Aluminium to make use of newer technology with better quality images, which was the key.
The new IP CCTV system features STANLEY 2MP bullet cameras and dome cameras, including 360⁰ dome models. The cameras feed is stored in two Milestone Husky M500 Advanced Network Video Recording hardware platforms; one of which is used in case of redundancy. Bridgnorth Aluminium is pleased with the new CCTV system as Steve Denton comments, "The image quality of the new system is streets ahead of the old system. The area of coverage is also far greater thanks to the addition of 180-degree wide angle and 360-degree cameras. The software is very easy to use and has some very useful features to aid with playback of recorded footage. The software has already helped us to retrieve footage that we would have had little chance of retrieving before."
STANLEY Security has been working with Bridgnorth Aluminium since 2017 when it took over the support of the company's existing CCTV systems. "The transition period had proved successful" states Steve, commenting on their decision to appoint STANLEY Security for this project."