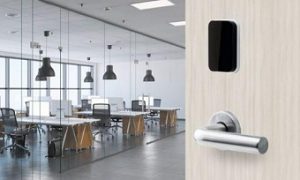 Users can now combine the advanced access control of a wireless electronic escutcheon with the intelligence and superior security of an electromechanical mortise lock. With a robust design, the new Smartair Lock is built to secure doors where high daily traffic and a large number of access events are the norm.
This new wireless device in the Smartair product range is built around three main elements. The external reader with multi-colour LED is available in several different finishes to blend with existing doors. The lock's internal control and battery-powered RF module also houses a button for electronic privacy. Finally, a battery-powered electromechanical clutch unlocks the door when a valid credential is presented to the external electronic reader.
The new Smartair Lock works with any DIN-compliant door handle, even one already in place, and the user can have an additional mechanical cylinder installed, enabling them to unlock the door quickly and manually in any emergency.
The lock incorporates admin-friendly features for streamlined security management. Sensors monitor and report when a door is left open or closed incorrectly, or when an attempted intrusion is detected. A Smartair Lock also registers any unlocking events made via mechanical key.
The new wireless lock works with any Smartair management option, including offline, update-on-card and real-time, online system management. Its RFID reader accepts all common RFID credentials, including Mifare, Iclass and Desfire. The lock also works with the future-proofed Openow mobile solution from Smartair, and the Smartair Remote app.
The new Smartair Lock can be installed quickly and wirelessly without disrupting your working day and make access in schools, hospitals and any other high-traffic location safer, simpler and more efficient — reducing wasted time and expense while ensuring premises are more secure