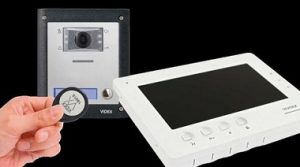 Videx, experts in access control and door entry, have introduced a new video entry system that boasts a 3.5" hands free colour monitor, integrated optional proximity for up to 50 users, that only requires two wires to link the door panels, videophones and PSUs together.
Rob Sands, Technical Director at Videx UK, said: "The wiring of these systems is very simple, meaning installation is quick and easy, so they're a great door entry solution for houses, flats, apartments and small offices. They're very flexible too so can be expanded to accommodate additional entrances or videophones, for example, should the need arise."
The system's features include a day and night camera with infrared illumination, call progress LEDs and an optional second camera that can be connected to each entrance for additional security. Up to four devices can be fitted within each apartment with the additional benefit of intercommunication between devices, meaning the video kit is a great choice for residential entry.
Rob added: "The new system, which has between 1-12 call buttons and comes in our new updated 4000 series design, also provides proximity access if required, which can be integrated into the standard size door panel with the proximity reader concealed behind the name plate window. Coded keypad for entry is also available in the video kit range, which also provides a speaker unit with loudspeaker function, microphone volume controls and balance control, a lock release delay, and 13º camera tilting. It's an easy to install, extremely user friendly but highly functional door entry solution."