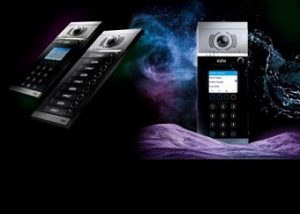 Urmet is releasing Alpha, a new line of modular entry panels for 2voice systems; quick to install and easy to programme. The Alpha generation has a pleasing aesthetic design, blending coated steel with methacrylate front plates to provide visual harmony and high resistance to UVA rays. In addition to its sleek contemporary design, Alpha offers maximum resistance to external agents such as water, dust and impact, with protection class IP55 and IK08.
Furthermore, thanks to a high-performance wide-angle camera that complies with European standards, Umet boasts about the exceptional quality of Alpha's sound and images.
Configuration is also made as easy as possible with Alpha entry panels which feature two levels of programming: basic and advanced.
Additionally, the entry panels have been designed to offer a simple and fast installation experience. The clever design enables the installer to join modular elements together in a few steps, minimising the use of screwdrivers and consequently reducing the overall installation time. All connections between modules are carried out by flat cables, which are supplied with the units, thereby excluding local wiring.
According to Urment, the Alpha is truly revolutionary in its design. Once installed, it barely projects at all from the wall, which clearly distinguishes it from most other modular entry panels currently on the market: only 12 mm for the flush-mounted version and 29 mm for the surface wall-mounted variant.
Alpha has been engineered to meet every need in terms of performance, design and space. For this reason, a version featuring buttons on two rows is available, allowing twice as many names to be added to the same overall space, if required