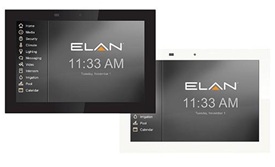 Nortek Security & Control (NSC) acquired IntelliVision Technologies Corp. last May, and it looks like it's wasting no time incorporating the company's deep learning AI and video analytics software into its own products. At CES 2019, the company demonstrated its new Elan Intelligent Touch Panels and Elan Intelligent Video Doorbell with facial recognition and video analytics built in.
"We are integrating advanced video analytics and face recognition with our smart home control technologies to empower users to go beyond the smart home experience that they're used to," said NSC senior marketing director Bill Hensley. "With these advancements, the smart home is becoming increasingly intuitive and personalized."
Due out sometime in Q1 2019, the new high-resolution screen Elan Intelligent touch panels automatically identify the person (who has been previously registered) within seconds, and then triggers a series of commands based on that person's preferences, from lighting levels to temperature to music. No pushing buttons, no swiping… virtually "interface-less" from a physical standpoint.
The 12-inch and 8-inch touch panels also have a built-in microphone array, providing voice interface with Amazon Alexa and Google Assistant. The panel also has intercom functionality, enabling it to link to any device that has downloaded the app, including a mobile phone. Registering the user is quick as well. The integrator merely has to step through a short series of commands, then the person stands in front of the panel's built-in camera and within seconds the face is registered. The scene preferences can then be set by either the integrator or the homeowner.
Elan also showed its new Intelligent Video Doorbell with built-in IntelliVision analytics. The doorbell enables users to answer the door from either in the home or remotely, and integrates with the Elan surveillance system. The doorbell camera integrates IntelliVision advanced motion analytics to accurately distinguish people from moving objects such as a passing car and swaying trees