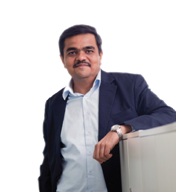 The Union Budget is focused on Infrastructure Growth. The Union Budget 2018 is a shining example of fiscal prudence with an investment focus on Infrastructure Sector and Railways. The government's thrust on Infrastructure Sector (₹ 14.34 Lakh Crore) and Railways (₹1.31 Lakh Crore) would have a positive outcome on the economy. These initiatives will drive the security industry in a whole new growth phase.
We welcome the government's move to double the allocation on the Digital India programme to ₹ 3,073 crore — a decision that will help the research and skilling in Robotics, Artificial Intelligence (AI) and Internet of Things (IoT), among others. We also appreciate the government's resolve to support the establishment of centres of excellence for Research, Training and Skilling in Robotics, AI, Digital Manufacturing, Big Data Analytics, Quantum Communication and IoT.
Ninety-nine cities have been selected with an outlay of ₹2.09 lakh crore under the Smart City programme. Redevelopment of 600 major railway stations has been taken up. All stations with more than 25,000 footfalls will have escalators. All trains to be progressively provided with WiFI, CCTV and other state-of-the-art amenities. UDAN shall connect 56 unserved airports and 31 unserved helipads in the country. A fund of ₹60 crore has been allocated for disaster resilient infrastructure. These initiatives will boost the prospects of security and surveillance industry in India.