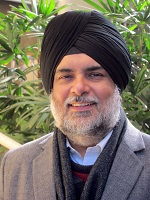 SECURITY TODAY & SECURITY UPDATE Editor Mr GB Singh has been invited on board the esteemed panel of international security experts to judge the IFSEC Global's Most Influential in Fire & Security for 2018. Grant Lecky, who himself featured in IFSEC Global's list of top influencers in 2014 and 2017, has been invited to lead the panel of judges. Grant has invited a diverse range of respected industry experts and thought leaders to the panel of judges and to coordinate the nominations and judging process at IFSEC in London, this year.
Grant said that he is pleased to include the other judges- Mike Howard, Lynn Mattice, Lynwen Connick, Jason Brown, Izabela Albrycht, Don Randall MBE, David Burrill O.B.E., Victoria Ekhomu, Carol Osler., Steven Durbin, the Rt. Hon. Baroness Neville-Jones, Theresa Payton, ir. Yvan De Mesmaeker, Ahmed Qurram Baig, Denis Lauretou, Francisco Poley Herrera, Tácito Leite,
Ifsec Global's 'Top influencers in security and fire 2018' seeks to recognise fire and security professionals who are influential in driving innovation; improving regulation, standards/ guidance or best practice; driving the success of the organisation they lead or are employed by; or being a prominent, persuasive voice in the media.