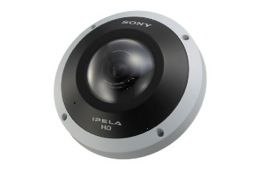 Sony has announced four new security cameras, the SNC-HM662 and X series (SNC-XM632, SNC-XM636, SNC-XM637). All of the cameras encapsulate the best of Sony's technology and expand Sony's offering for new applications. The SNC-HM662 makes it possible for users to have five megapixel (MP), high-resolution video and a 360-degree view of an area with just the one camera. It is ideal for both indoor and outdoor environments such as retail outlets, campuses and commercial buildings. It helps users eliminate blind spots and enhances situational awareness.
The SNC-HM662 features a 360-degree panomorph lens from ImmerVision which provides better clarity and resolution towards the edge of the lens, whereas traditional lens technology performs better in the centre. This outstanding camera is also optimised to maximise the sensor coverage resulting in a higher resolution where necessary. These features combined make the camera an ideal choice for panoramic overview. The SNC-HM662 also supports fast, responsive electronic pan/tilt/zoom (ePTZ) and 11 different viewing modes through the Sony Web viewer.
The SNC-HM662 is designed to be used with a VMS solution so that 'de-warping' (correcting image distortion and straightening the viewed image) can be fulfilled on the client side. This feature gives viewers the advantage of always seeing a complete overview of the recorded video scene, regardless of the live view being digitally cropped and zoomed to an area of interest. The client side ePTZ functionality can be used for live capture and playback, so even events happening out of shot in the live view can be quickly reviewed in playback. The SNC-HM662 also supports two-way audio with an optional microphone and speaker, power over Ethernet (PoE), and edge storage capabilities.
The three new X Series cameras are ruggedised, outdoor, Full HD minidome models. They are Sony's first rugged IP cameras with image stabilisation technology and a built-in microphone, making them ideal for use on board transportation vehicles such as buses and trains. All of the cameras include the IPELA ENGINE EX technology platform. This includes Sony's wide-dynamic range technology View-DR, XDNR noise reduction technology, and frame rates 30 frames a second in full HD.
The SNC-XM632 is compliant with the ISO 16750 standard and therefore recommended for bus surveillance. It is also suitable for outdoor applications such as retail, banking and education where the compact form and flat finish will blend appropriately with the installation surroundings. The SNC-XM636 and SNC-XM637 are designed with different horizontal viewing angles (85 degrees and 115 degrees, respectively) and comply with the EN50155 and EN45545 standards for surveillance aboard trains. All of the X Series cameras are rated as IK08 vandal resistant and Ingress Protection rated to be dust proof and protected from water due to powerful jets (IP66).