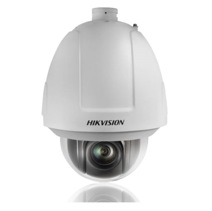 Hikvision recently introduced two smart analogue PTZ domes (the DS-2AF7268 and DS-2AF7264, respectively) which both incorporate a 960H image sensor to capture superior images at a horizontal resolution of 700TVL. This 960H image sensor presents a leap in current analogue surveillance performance and provides a 36% resolution improvement when compared to 4CIF. Utilising these PTZ domes with Hikvision 960H embedded DVRs allows users to experience highly-detailed images and also provides insurance against security risks such as theft and burglary.
These two PTZ domes provide enhanced IR illuminators and offer up-to 150m clear visibility in low or zero lighting conditions. Digital WDR and 3D DNR are also supported to improve image sharpness, and provide a more accurate colour reproduction in variable lighting environments.
Engineered with a smart tracking function, both domes are able to detect a moving object and track it within the camera's area of coverage without fault. Moreover, this smart tracking technology ensures the target always stays centered in the middle of the picture during tracking. This greatly increases the effectiveness of a video surveillance system, and is especially apt in locations where the presence of people or vehicles requires special attention (such as parking lots, streets, residential communities, schools, etc.).
Of special note, Hikvision's dome housing can be ordered with a wiper to automatically clean the lens when exposed to rain, snow, or dusty environments. As such, image clarity is insured, while maintenance costs are minimised based on the elimination of onsite cleaning.
Both PTZ domes provide a maximum pan speed of 160°/s and a maximum tilt speed of 120°/s. The DS-2AF7268 offers a 36x optical zoom, while the DS-2AF7264 offers a 23x to efficiently zoom onto objects of interest. Additionally, a maximum of 256 camera target preset points can be programmed for surveillance, while users can also define 8 automatic patrols and up-to 32 presets per patrol.
Rounding out this benefit portfolio, Hikvision also offers another two 5" Smart PTZ Dome Cameras: the DS-2AF5268 and DS-2AF5264. While these two models do not support IR capability or a wiper function, they do offer a much faster pan/tilt speed (the DS-2AF5268 features a 540°/s pan preset speed and the DS-2AF5264 features a 400°/s tilt preset speed). Both models are excellent options in a solution requiring PTZ functionality.