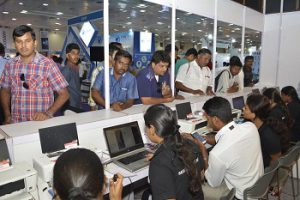 Chennai gets an eye-opener on security
'Security and Fire Expo (SAFE) South India' 2016, the three day (9th -11th June 2016' ) trade show by UBM India, organisers of IFSEC India, commenced at the Chennai Trade Centre.
The show brought together over 50 Indian and global suppliers and manufacturers from renowned Indian and International brands from surveillance, entrance and home automation industry, consultants, business experts and key government officials to congregate, interact, network, see the latest innovations from world's leading companies, source business solutions and gather invaluable expert support, all under one roof.
The event provided informative demos and a wealth of opportunities for the visitors to learn about cutting edge technology, industry trends and discover the best solutions to keep their business and clients secured. Analysts are of the opinion that the rise in terrorist activities, growing crime rates, data thefts, remote monitoring, growth of public infrastructure, increasing IT spending, government initiatives and increasing security spending are all boosting markets for surveillance systems in India.
Against this landscape, SAFE 2016, the key Security and Fire event in the Southern market of India provides opportunities to its exhibitors and visitors to learn about the latest technology and industry trends and discover the best solutions to keep their business and clients secure amongst a showcase of products like CCTV & video surveillance, biometrics & RFID, integrated systems, access control, cyber security, integrated systems, physical security, perimeter protection, fire detection systems, intruder alarms and fire alarms on display.
In its second year, SAFE India has grown in size and depth, attracting industry leaders and key exhibitors including our Premier Partners Accu-Vision, ERD Technologies, Prama Hikvision, Hi-Focus, Unicam, XYZ Digital Pvt. Ltd., Samriddhi Automations Pvt. Ltd., Sparsh , Uniview and others such as A-ID Systems (I) Pvt. Ltd., Altrox World Corp, Atlanta Systems Pvt Ltd, ATSS, Automation Zone, Axestrack Software Solutions Pvt. Ltd., Cloud 9 Securities, Clumaxx Technology, Divine Eye, Gasvigil Technologies Pvt. Ltd., , In4 Solutions, Jack Enterprises, Krinovate Services, Kubhera Cable Private Limited (Crest), Leaf Technologies Pvt Ltd, Mark Electronics, Matrix Comsec Pvt. Ltd., Metro Electronics, Movision Technologies, Mudra Electronics, MX-MDR Technologies Ltd, Onebee technology Pvt. Ltd., Ontracking Fzco, Rahul Cable, Ranjana Computers, Rax-Tech International, Sidhi Vinayak Security Systems, Sun Security System, Swaraj Secutech Pvt. Ltd., Unicom IT Solutions amongst others.
Speaking at the inaugural of 'Security and Fire Expo (SAFE) South India' 2016,Yogesh Mudras, Managing Director, UBM India said, "In the age of smart technology, to match the pace of the smart cities, need for smart security is of utmost importance. Today, security and surveillance requires rapid growth amidst industrial, commercial and residential establishment. UBM India's objective for SAFE 2016, is to bring to the forefront this need and in response, the required solution offerings based on new technology to strengthen security in these establishments."
The expo was well received by the industry at large with support from Electronic Security Association of India (ESAI) and Asian Professional Security Association (APSA). Industry validates SAFE 2016 as an industry platform and reiterates the objective of the annual expo in South India by UBM India.
Benni Gasper, BDM, RAX Tech International said, "Safety and Security Industry is on the rise due to growing awareness. This industry has immense potential but the challenge is to identify and reach prospective customers. For us it is important to make people aware of safety and security concerns and how our products can help to overcome them. We believe that SAFE is an excellent platform for creating awareness and identifying new business opportunities. We are confident that participation in SAFE will have a positive impact on our business."
Sandeep Jain, HiFocus Electronics India Pvt. Ltd said, "Industry is moving from HD analogue to IP and there is a huge potential in IP Technology market. Industry requires a solution based technology which can be fulfilled by IP technology. A feature in the local market would be beneficial to the company as it would give an exposure to the local market. We hope that this edition of SAFE helps us open up our prospects in southern market as well as pan India."
Pratheep Gandhi CEO, Altrox World Corp said, "We are associated with SAFE since its inception. This trade fair has gained much importance by continually showcasing innovations and by bringing in latest technologies. Overall it has been a good experience to be a part of SAFE India, as it has helped us to expand our business in entire South India branding merit has also been possible after getting connected with SAFE India."