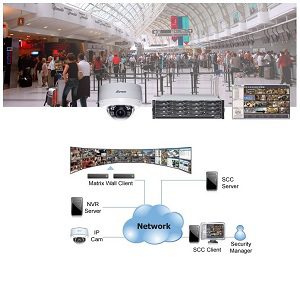 Airport operation and management is one of the most complex tasks – by its very nature it involves aircrafts, cargo, passengers, luggage and storage operations and all in one huge area. With so many people and things bustling around, security is the top priority for every section from check-in areas, passport control areas to runways in the airport. Surveon airport solutions are designed to help the administration authorities to deploy security at the highest level.
The Surveon Airport solutions include megapixel cameras with panoramic view and a 3-axis system covering wide areas, Enterprise VMS with powerful central management functions and RAID NVRs with extended subsystem storage, providing the airport with a reliable and scalable surveillance system.
When it comes to airport surveillance, reliability and efficiency of the system should be one of the main considerations. Under such circumstances, Surveon provides fisheye cameras with effective megapixel image quality for 360° surveillance of the airport without any blind spots, eliminating the cost of installing extra cameras. Based on different locations, Surveon cameras allow users to adjust the shooting angle with the built in 3-axis system. Moreover, Surveon cameras with WDR and low light functions help to recognise crucial detail for high-level security applications. Among the Surveon camera selection, the 5MP WDR fisheye camera CAM7511, the 2MP 3-axis dome camera CAM4361LV or the 3MP HDR outdoor doom camera CAM4471HEM would be recommended for such applications.
In order to ensure that surveillance is maintained at the highest level, the system has to be under reliable and yet flexible management at all times. The data protection issue, in terms of recorded video, is of key importance in such cases. With RAID functions built-in, Surveon offers products like the NVR2100, NVR7800 Series and NVR7316 with extended storage to ensure 180 days non-stop recording with high reliability. In addition, Surveon Enterprise VMS offers Surveon Control Center (SCC), a powerful add-on suite for advanced security projects with multiple clients, hundreds of cameras, interactive video walls, and matrix screen displays providing centralised management for videos from every corner. The multiple access options from web, remote, and mobile clients allow the relevant staff to manage surveillance anywhere in the airport. The active central alarm management ensures every event can be responded to in time. Also, the VMS Smart Search element provides a total awareness controlling framework, turning massive data to actionable and meaningful information.
Surveon airport solutions have been successfully adopted by one of the top 10 airports in the world. According to the company, Surveon's end to end megapixel solutions were able to raise the surveillance standards to meet the world-class level for airport facilities.