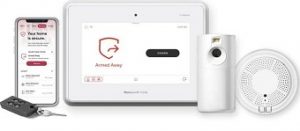 Resideo Technologies, Inc., a provider of home comfort and security solutions, announced the availability of its Honeywell Home ProSeries Security and Smart Home Platform.
From an entry-level security system to a fully integrated smart home solution, the ProSeries Platform offers dealers that serve residential and small businesses a complete, end-to-end solution, and expands Resideo's overall portfolio of connected security solutions and services.
The new ProSeries Platform offers a uniquely scalable, modular design and includes an all-in-one wireless security panel with a 7-inch colour touchscreen, a family of wireless keypads and two-way sensors, alarms and accessories. Designed specifically for easy, professional installation, the ProSeries Platform also offers homeowners a sleek and modern design that seamlessly blends in with any décor.
The platform allows for easy additions as technology trends evolve and families' lifestyles change, and provides:
• World-class security. It provides dependable alerts for movement and intrusion, and 24/7 professional monitoring can alert first responders, when necessary.
• Whole-home safety. From fires and floods, to smoke and carbon monoxide, the system helps keep families safe and informs them if they need to exit quickly through the company's exclusive One-Go-All-Go alarm
• Smart home control. Provides an enhanced user experience with hands-free disarming, a built-in Amazon Alexa voice assistant and a consistent user experience across all user interfaces and the Total Connect mobile app.
The product trials and testing for the ProSeries Platform included an extended beta program with security dealers to help ensure system reliability, performance and security. Professional security dealers applauded the seamless combination of hardware, software and back-end surveillance capabilities that allow for remote service.