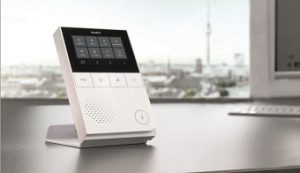 Bird Home Automation, a pioneer in IP video intercom technology, has released the first indoor station for its DoorBird door intercom product line. The A1101 indoor station displays a live video feed from the DoorBird door station and provides 2-way audio communication with visitors. With a customisable high-resolution touchscreen display and hard keys for commonly used functions, the A1101 indoor station is intuitive and flexible.
With the release of the A1101, DoorBird can be a solution for all projects requiring a dedicated intercom endpoint. DoorBird now provides both the flexibility of an app-based video intercom system and the reliability of a wall-mounted station. The indoor station can be paired with all of DoorBird's single-family residence and multi-tenant models.
The A1101 can connect to the network via Wi-Fi or a hardwired connection and can be powered via PoE. Settings are configured remotely via the DoorBird app. The indoor station communicates with the DoorBird intercom over the LAN and can provide the user door entry control and, in MDU projects, elevator control.
There is no limit to how many indoor stations can be added to a DoorBird system. The A1101 has a sleek, low profile design.