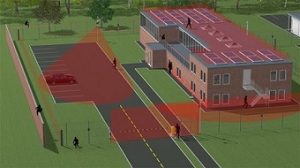 Optex will be using the Security Essen event, in Germany to showcase a range of leading technologies and how they can be combined to create an effective, multi-layered security system.
Technologies include the Optex award-winning security Lidar Redscan Pro which can create virtual perimeters or protect whole facades of up to 100m in length and fibre optic sensors for fenced and buried perimeter applications. New functionalities and intelligence have been recently added to its Lidar detectors, including dynamic event filtering, which allows for alerts to be configured to meet specific detection criteria or logic.
Optex will also demonstrate the accuracy and flexibility of Redscan and how the Grade 3 Redscan Mini is ideal for access control applications and high-value asset protection, creating a high-resolution virtual shield that allows operators to pinpoint the exact location of an intrusion. In a datacentre environment, for example, 2D Lidar sensors can create customisable detection areas to effectively 'cocoon' the server units and create different detection zones to allow maintenance to be conducted while still keeping the data secure.
Opex will similarly be running live demonstrations for its Intelligent Visual Monitoring solution. The solution effectively 'bridges' all components of a security setup to create a visually verified monitored solution via the Secured Cloud, enabling users to verify alarms within seconds wherever they are.
The company will also introduce Flip X – a new range of indoor intrusion detectors that feature an innovative new lens that can be 'flipped' to provide both narrow and wide detection in a single sensor. It also includes a bespoke pyroelectric sensor that adapts to the human shape, and a refined spherical lens for very sharp detection.
Masaya Kida, Managing Director for Optex EMEA, says he is excited to be returning to Essen: "We will be using the show to provide live demonstrations of our latest innovations, and how they can help installers, system integrators and end-users to re-imagine security solutions. We have a comprehensive range of products with proven performance for every application and need, from residential all the way to solutions for datacentres and critical infrastructure."
Johannes Faber, Regional Sales Manager for Optex, is also excited about showcasing the company's talent: "Our business has grown significantly in the DACH region, and we have expanded our local team with a new technical pre-sales engineer to support our project business. I am looking forward to meeting new and existing customers and discussing future projects."