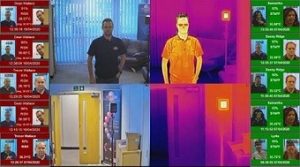 Vital health and safety personal protection against coronavirus for a wide range of NHS staff, key workers and other employees manning critical commercial, industrial and public sector facilities, has been developed by Metro Security (GB) PLC. Metro has reacted to the global pandemic by developing an innovative new module for its 2019 Queen's Award-winning M.A.R.S analytics solution. This new temperature monitoring system provides immediately available, easy-to-install and effective detection of arriving employees, contractors and visitors at the entrance point to any facility.
On-site staff can monitor anyone arriving with a temperature higher than normal, using either a local display screen and/or a mobile app for their smartphone, tablet or laptop. Up to 20 incoming people can be screened simultaneously.
In addition to Metro's existing facial recognition techniques, the new M.A.R.S temperature monitoring system can check each arriving person using face detection thermal software linked to skin temperature. This innovative and configurable technology can then raise an alarm if their temperature meets a pre-assigned, abnormal level – a key symptom indicator for COVID-19 and other conditions including flu (influenza).
These two facial recognition and thermal temperature systems can be deployed either standalone, or in conjunction, according to user requirements. For instance, health facilities, public buildings and commercial establishments may only wish to monitor the temperature of those arriving infrequently at their sites and set the temperature alarm threshold at a nominal point. The triggering of an alarm above this temperature level then provides them with the option to take preventive action, as required, before the person moves past this important entry point.
Facilities such as offices, warehouses and distribution operations, where staff regularly come and go, can combine the two technologies to both identify each person individually (using facial recognition) and measure/match their daily temperature against previously taken readings. This could warn of an elevated facial temperature compared with previous days which, even though it's still within a safe range, may indicate a developing condition. This offers the potential to detect coronavirus symptoms even earlier and help save more lives.
Thermal temperature screening of up to 20 people at once can be carried out, with an accuracy of ± 0.3oC, ensuring no 'false positive' alerts are triggered. The system's elements consist, firstly, of proven and reliable facial recognition software that works in conjunction with megapixel CCTV surveillance cameras. These cameras can be quickly deployed and configured to suit varying site entry arrangements. Secondly, Metro's new temperature monitoring technology is interfaced with configurable alarms to provide real-time alerts for immediate on-site manned response. The system can also be linked to access control equipment such as turnstiles and door entry locks, e.g. to automatically close access points if a body temperature alarm is activated and prevent ingress to the site while checks are carried out.