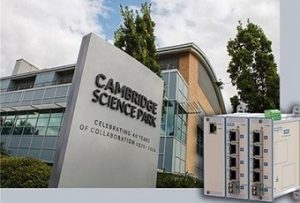 When Briar Security was commissioned to replace an ageing CCTV system at Cambridge Science Park, they turned to AMG Systems to provide the required IP video surveillance power, video and data network equipment.
With a 35-year history in the security industry, Briar Security is highly experienced in the development and installation of security solutions across a broad range of applications. Commenting on the transmission specification for the new Cambridge Science Park system, Stephen Cook, Managing Director of Briar Security explains: "The original CCTV system at the park was quite aged, with some components estimated to be over 15 years old and either poor performing, or at the end of their operational life cycle. In addition, some elements of the CCTV were non-operational, meaning the site's security team were being hindered by limited situational awareness across some areas of the park. Also, the existing CCTV system pre-dated a number of areas of the park which had been redeveloped (or were due to be redeveloped in the near future), and as such, only offered partial surveillance coverage – but in some areas, no coverage at all.
"As owner of the freehold, Trinity College, Cambridge required an enhanced IP video surveillance system, and we were selected to deliver the system after a competitive tender process, managed by the independent property consultancy Bidwells. The property consultancy wanted the specification of the new surveillance system to offer 100% redundancy and flexible expansion capability."
"The new underground duct system was installed to serve the science park; routing fibre optic cable for the backbone of the new network, in addition to a new mains supply to roadside locations around the site. Here the AMG Managed Industrial Ethernet Switches were installed in cabinets to provide power and control data to the cameras, and receive video via a Cat-6 cable wired to each pole mounted camera."
Six 1Gb SM fibre rings were installed, each with 3-4 AMG9IM2P-8FH-2S-P240 switches connecting the cameras via Cat5e/6 (GbE) cable. Each ring is then linked to Avigilon servers and three desktop control points at the control room – via three dedicated AMG9IM2P-4G-2S switches and a single AMG9CLMP-24G-4XS-ST switch.
AMG Managed Industrial Switches have up to 16 fast or Gigabit Ethernet ports with up to 4 additional dual speed SFP ports for data uplink, making them the perfect choice to provide the park with the best performance and most reliable switch, plus the critical expandability element for the developing site's future needs.
Thanks to the combined expertise of Briar Security, Bidwells and Norbain, amalgamated with the technical capability of AMG managed industrial switches, Cambridge Science Park now has a world-class security solution fit for one of the world's leading technology centres.