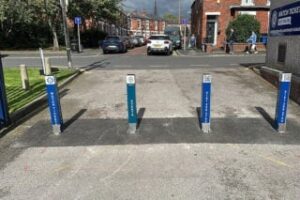 Crowdguard secures MKM Stadium for Hull City and Edgeley Park for Stockport Country F.C., with Hostile Vehicle Mitigation (HVM) for added pedestrian protection. The firm has said they usually help to protect football stadiums with temporary HVM to protect road closures and pedestrian routes against vehicle as a weapon attacks, but that they are increasingly being asked to provide a flexible system that will protect key ingress and egress routes on an as needed basis.
The Unafor Core semi-permanent HVM system was their solution for this requirement at two football stadiums; Edgeley Park, home of League Two Stockport County, and the MKM Stadium, Hull City AFC's ground.
At Stockport County, Crowdguard's threat, vulnerability and risk assessment and vehicle dynamics assessment led to a review of the club's traffic management plan and a recommendation to protect the fan zone with HVM equipment. The fan zone is located in the car park, which is reached via two gated entrances. When the gates are open to allow pedestrians into the fan zone on match days, the Unafor Core installation is designed to protect them from vehicle attacks and incursions.
With its shallow mount foundations and click-and-lock deployment, Unafor Core can be erected on match days, and removed when not required. For one of the gates, the firm installed a triple core system with three upstands, and for the other, two dual Core installations with four upstands.
Over at the MKM stadium, which hosts music events as well as sports fixtures, Crowdguard worked closely with the stadium security team and local counter terrorism security advisers (CTSAs) to risk assess the threat, vulnerability and risk at the stadium and advise on where additional, proportionate counter terrorism measures should be implemented.
They also recommended a Unafor Core installation at the main entry gates to the stadium, with shallow-mount foundations and four HVM upstands that can be deployed to enable pedestrian access on match and event days. The upstands are designed to protect against vehicles of up to 3500kg, travelling at speeds of up to 48 kph, and can be removed and stored locally to enable vehicular access when there is no event or sports fixture taking place.
The HVM system had to be installed by the Crowdguard team within a three day window between scheduled events at the stadium. Now that it is installed, it can be deployed by the stadium team as and when required in just five minutes, said the firm.
Richard Hinks, Stadium and Facilities Manager at Edgeley Park commented: "Crowdguard did a great job of installing our HVM at a very competitive price, working with us to understand the club's need to keep fans safe while enabling them to access the ground on foot on busy match days. The branded covers we use with the Unafor Core upstands are an added bonus, giving our counter terrorism protection a dual purpose!"
Phil Jacklin, Head of Operations at Hull City added: "We needed a solution that would be effective in enabling safe pedestrian access through our main gated entrance, while offering us the flexibility to allow vehicles through on non-event days. Crowdguard worked around our operational needs to provide a great solution that is so simple to incorporate in our match and event day security protocols, and has enabled us to upgrade our security for a one-off fixed cost."