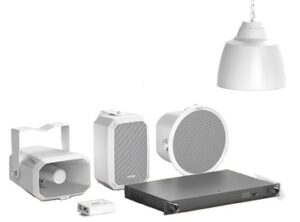 Hanwha Vision is adding powerful new audio capabilities and an enhanced layer of security to its line of advanced surveillance systems with its new IP Audio System. The new system features several components including speakers in multiple form factors, an audio module for analog speaker control and an audio server.
The system can operate as a stand-alone system, or it can be linked with a video surveillance system as an integrated solution to broadcast either real-time or pre-recorded messages to pre-emptively address suspicious or criminal activities. In addition to security-related messages, the system can also be configured to produce background music and informational announcements.
PA-P100W IP Pendant SpeakerUsers can input Text to Speech (TTS) messages that the system broadcasts as audio warnings and other notifications to reduce incidents of criminal behaviour in public settings.
For example, while a customer is using an ATM machine, the surveillance system can detect if another person is hovering too close and issue an audio warning to maintain an appropriate distance.
In perimeter monitoring applications, the system can issue audio warnings if a potential infiltration is detected or if the system senses human activity that indicates a possible perimeter breach.
In retail settings, the IP audio system can help prevent theft using a "dwell time trigger" that can detect people in a retail space lingering for a suspiciously long period, indicating the possibility of shoplifting, for example. The system can broadcast an audio warning instructing the person to seek assistance from a sales associate, making it clear to any potential shoplifter that their behaviour is under surveillance.
Users can conveniently control when and how these messages are broadcast. The IP audio system easily integrates into a user's video management system (VMS), allowing users to select the camera to use with an alarm event. They can also select the speaker they want to deliver the audio message.
Messages can be programmed for a female or male voice and in a number of languages. Users can monitor audio performance by checking the speaker's status in the device's web viewer, with a graphic bar showing the speaker's output signal.
The IP audio system includes several speaker form factors designed to fit seamlessly into any environment. Its pendant speakers have a sleek appearance that can be hung from ceilings, while the wall/cabinet speakers and plenum-rated in-ceiling speaker can be tucked away to blend into any setting. The 124dB horn speaker can function in both indoor and outdoor areas. The system's audio module allows existing analog speakers to be controlled over an IP-based network, and the audio server enables control of large speaker groups (up to 512 audio devices).
In addition to security-related matters, the IP Audio System can deliver user-selected background music to enhance the shopping or dining experience or contribute to more subdued environments by piping in calming piano or classical music. These options are easily configured and can be programmed with time specifications, such as the date and hour of the day.
The IP Audio System can also bolster communications by broadcasting scheduled announcements to staff, students, or customers or with 2-way communication via SIP protocol. Using this system in school settings, students can be informed of schedule changes, while customers in commercial spaces can be alerted to a store or restaurant's closing time.