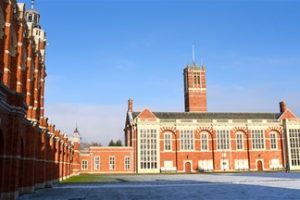 Around 900 students, over 95% of which board in 18 boarding houses which all require different access permissions – one of Britain's oldest boarding schools had complex security needs.
Add in the other school buildings, dining hall and common areas, it was imperative that Christ's Hospital School in Horsham had a new security system that would be simple to manage and maintain the security of the site, staff, and pupils. The school has begun working with Vistec Systems Ltd, an integrated security systems provider based in Crawley, West Sussex.
The obsolete security systems have been replaced by proximity marine readers, proximity metal keypads, MIFARE – KP75 and Net2 Paxton software – among other solutions. James Brookes, Operations Manager at Vistec, said: "I've been working with Paxton systems for over 12 years, and as soon as I heard the requirements for Christ's Hospital, I knew that Net2 would be the right solution.
"There were a few challenges to contend with for this installation, including the need to use existing cabling, limited space for hardware storage and time. "We needed to install over 280 readers and all the supporting Net2 plus access control units in only six weeks whilst the students were on their summer holidays.
"Thanks to the ease of the Net2 system to install, and the occasional help from Paxton's Technical Support team, we were able to deliver."Net2 is Paxton's flagship, networked access control solution, designed to make management of the site straightforward.
David Kennedy, Housekeeping and Security Manager at Christ's Hospital, is responsible for the security decisions made at the school and had experience with the platform from a previous job. He said: "I knew Net2 would be a great choice to manage a site of this size, and this time we got to install the Net2 Marine Readers.
"They're visually appealing, but also provide a clear, lit indication of where the door is, and whether access has been granted or denied. I can't speak more highly of them." The school first opened in 1552 in Newgate Street, London, before relocating to the current site in Horsham in 1902.
The historic building now has read in/read out access on all doors, helping to maintain the security of the site and its staff and students – which includes 1350 users of 144 doors.
As every user needs to present their access token to get in and out of a building, the Net2 software provides reporting on how many people are on-site, in any given building, and even pinpoint the location of specific users in an emergency.
To ensure the students' safety the security team will get a notification if students leave their dorms out of hours and PIN keypad readers have been installed on some external doors to allow access and exit to temporary students who board over the school holidays and do not have a token.
James from Vistec adds: "To overcome the challenge of the limited space, we used the Net2 plus 1 door controller in the PCB-only format and installed several of them in a single Haydon PSU cabinet to minimise the amount of wall space required for the installation.
"This is another reason why Net2 was the best option for this site; its flexibility allows us to make it work to our advantage." The system has been in use since September and all staff, students and system administrators have given good feedback. There are now plans to further extend the system to secure all the internal doors on the higher floors of the boarding houses.