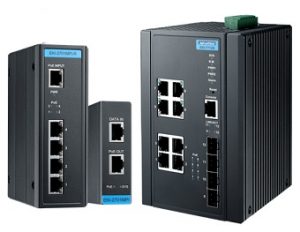 With the growth of IoT applications in smart buildings and infrastructure, the adoption of PoE devices in different field sites is also expanding. According to Global Market Insight, the Power Sourcing Equipment (PSE) segment is expected to triple in market size from 2018 to 2025 as this equipment is widely used to meet the power requirements of powered devices including wireless access points, video cameras, VoIP phones, and point of sale (PoS) terminals.
According to Korenix, research shows that the IoT connectivity application segment held a major portion of the (PoE) Power over Ethernet solutions market share in 2018 and is expected to dominate the market with a share of over 30% in 2025.
With more and more PSE devices being increasingly adopted by factories and governments, PDs that meet IEEE 802.3at and supply 30W PoE are sufficient for low power equipment only. However, many smart city infrastructures such as bus applications, digital signage, PTZ cameras or LED lighting for smart buildings require larger power input. The good news is that with the newest IEEE 802.3bt standard, PDs that meet the standard can fulfil the needs for those power-hungry devices and help achieve the benefits of both time and cost savings, energy efficiency and performance improvement.
The Korenix Jetnet 5200 series are Korenix' latest Layer 2 switches that can provide up to 90 W per port for PD providing up to 480W of total budget. The series comes with four different models, offering high flexibility with a selection of 8/ 10/ 12/ 16 ports, PoE and non PoE options. Moreover, cyber security is important when it comes to IoT and smart city networking.
The series incorporates multiple cyber security features which can ensure the safety of data transmission and prevent attacks from hackers. Network security in urban infrastructure is of utmost importance. This series is offered as an Advanced Security system by Port Security, Access IP list, SSH, HTTPS Login, TACACS+. The multiple cyber security features are offered to ensure a safe network backbone for smart city applications. Another highlight is that the Jetnet 5200 series is equipped with up to 8 fibre ports, enabling it to fulfil applications that require multiple fibre