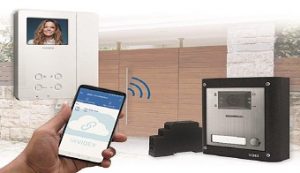 Videx has added a series of new features to its IPure IP range, expanding the versatility of the system in providing a high-quality entry solution for a wide range of buildings.
The Videx IP system is an expandable system that can be customised to suit a range of entry needs, accommodating up to 42 apartments using conventional call button modules and vandal-resistant panels or a digital call panel option able to call up to 10,000 apartments. All entrance panels are available with voice annunciation to aid visitors during the call progress and proximity access control.
The new features include a 7" touch screen handsfree video monitor, a 3.5" touch screen handsfree video monitor, an audio IP telephone, and the Cloudbox which allows additional programmable input/output to be added to the system as well as being a gateway to using the app in apartments which don't have a video monitor. The new hands-free video monitors complement the existing 3.5" touch screen video phone with the handset. Up to 16 devices can be included in each apartment with advanced cascading flexibility if required.
SIP is supported across the range allowing it to be integrated into third-party SIP telephone systems. For further integration, the door panels include an RTSP server allowing video to be streamed to third-party systems and HTTP API to be used by third-party systems.
The 7" monitor with full touch screen also has several added features which build on the vast range of features already offered on other video monitors in the range.
These include third-party camera integration using RTSP with support for H264 & H265, home automation integration, picture in picture viewing, a built-in webserver to access event logs, captured images, and videos to playback, and an optional Wi-fi connection. Further features can be added with a simple firmware upgrade.