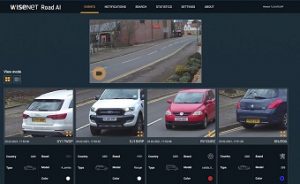 Hanwha Techwin, a global supplier of IP and analogue video surveillance solutions launched Wisenet Road AI, a powerful new line of Automatic License Plate Recognition (ALPR) cameras that feature Make, Model, and Colour Recognition (MMCR) to identify vehicles using AI technology.
The cameras, together with a powerful edge-based application, support real-time viewing, event monitoring, forensic search, and a range of widgets and graphs that display daily/weekly/monthly traffic statistics.
With multiple types of classifications including car, SUV, van, light commercial vehicle, truck, bus, and motorcycle, users can search based on several attributes including date/time, license plate, photo, type, brand, model, and colour. In addition to displaying plate and vehicle attributes, the Road AI edge-based app also supports black/white list event notifications.
As a standalone system, the application can support up to 10,000 detailed records, including the images of plates and vehicles, on the LPR camera's internal SD card. In addition to camera-based storage and search features, Wisenet Road AI is integrated with popular VMS providers such as Genetec, Milestone, and Hanwha's Wisenet WAVE. Event notifications, descriptive metadata, and traffic metrics are always accessible, even with a simple browser interface.
For low-mid speed applications, the PNV-A9081RLP and PNO-A9081RLP cameras are ideal for community traffic observation and parking applications. For higher speed applications, the new global shutter-based TNO-7180RLP supports LPR and MMCR at up to 155 MPH with 18x zoom and powerful IR for long-range reads up to 165 feet at any time of day.
Wisenet Road AI cameras, with the embedded and permanently licensed Road AI application, are unique in that they require no external application to read license plates or other vehicle attributes. The cameras are also easy to install due to their wide angles and high-resolution 4K sensors. This allows more flexibility and deployment options than traditional LPR cameras that must be carefully lined up to capture numbers accurately.