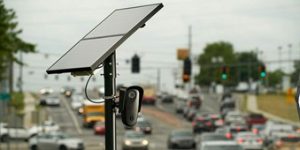 Given the recent spate of campus shootings, integrators will likely be seeing even more requests for proposals from universities in the coming months as increased awareness of campus security is in the public consciousness. So it's not surprising to hear that Georgia Southern University in Statesboro, Ga., has announced it is investing over $1 million dollars to upgrade its security cameras and video technology.
The $1.2 million investment will be used to switch cameras in resident halls and other buildings from analog to digital, according to a press release from the school. The improvements will be made at its flagship campus in Statesboro as well as its additional campuses in Savannah and Hinesville. New cameras will also be placed at campus entrances and can tie into those from other law enforcement agencies.
"This upgrade allows us to add more cameras, extend our reach, add storage and searching capabilities, and better integrate our cameras into other video surveillance networks in use by local law enforcement," said Georgia Southern University Police Chief Laura McCullough.
"This is a major step forward in our ongoing work to keep our campus safe."
The new technology upgrade includes Flock Safety cameras, which the university says are motion-activated and will record licence plate numbers of any vehicle that enters its parking lots. The cameras' vehicle fingerprint technology lets police search video by vehicle make, colour, type, licence plate, state of the licence plate, missing plate, covered plate, and paper plate, as well as unique vehicle details such as roof racks and bumper stickers. The cameras can also be used to look for a specific suspect or vehicle that has been entered into law enforcement databases.
The project comes after a rise in crime on and around the campus, including an armed robbery and a car crashing into a dorm. Sophomore Ivey Durden told WSAV that she supports the upgrades.
"I don't ever feel unsafe on campus, but knowing that we'll have these security cameras in case anything ever does happen will make me feel a lot more comfortable," she said.
Student Benjamin Button voiced concern that security cameras only catch a crime after the fact and don't prevent them.
"The camera system that we're talking about can actually give us a notification, so it's not necessarily that we have to wait for a crime to happen," McCullough countered. The project will begin in the coming weeks and is expected to be completed by the start of the fall 2023 semester. Georgia Southern has more than 1,800 cameras on its three campuses