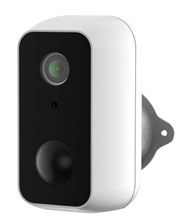 Pyronix announces new additions to their SmartHome security product range; the HomeControl BatteryCam and SolarPanel. The new BatteryCam offers indoor and outdoor video monitoring with built-in movement detection. It is supplemented by the new SolarPanel, which provides continuous charge.
"We're excited to extend our SmartHome range further with the new BatteryCam and SolarPanel." "The BatteryCam allows users to add video surveillance anywhere in the home, inside or outside, as long as it's within Wi-Fi range," said Laurence Kenny, Marketing Director at Pyronix.
With a 130° wide-angle view, motion detection, real-time notifications, and a push-to-talk function, the device allows users to see exactly what's happening at home, no matter where they are. Users receive instant alerts from the BatteryCam to their mobile devices via HomeControl2.0, keeping them connected to home 24/7, and with its in-built mic and speaker, users can interact where necessary.
Installation couldn't be easier either, with full setup completed in just a few steps. All fixtures and fittings are included with the product, so it can be installed wherever required.
The BatteryCam comes with a built-in PIR detector and human body filtering to identify the presence of unwanted strangers and can mask out nuisance alarms triggered by pets and other movements. It works up to 9 metres and is configurable to three different sensitivity levels for custom settings, depending on the environment.
Laurence continued, "The BatteryCam is a great choice for homeowners as there's no need to put it on charge regularly."
"Its large 9600 mAh battery means it lasts up to 12 months on standby and around four months with wake up 10 times a day." "What's more, the battery level can be maintained continuously with our supplementary SolarPanel, so users are always protected."
By inserting a 32GB SD card, customers can record up to 3000 one-minute video clips in local storage, with the option to playback and capture video footage to examine, save and share; and for a limited time only, the SD card is available for free in BatteryCam kit, BATTERYCAM/KIT-SD.
The BatteryCam can also be integrated with other Pyronix SmartHome products, like the SmartPlug, to deliver a complete solution that makes life safer and easier for users.
For example, the home can be set up to automatically switch a light on if the BatteryCam detects motion, highlighting and deterring potential intruders.