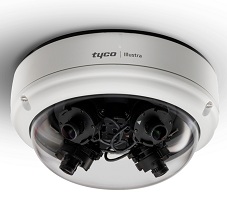 Johnson Controls, the global leader for smart and sustainable buildings has further expanded its Tyco Illustra range with the launch of a new Flex multi-directional camera.
Designed to provide a highly cost-effective solution for monitoring activity over wide open spaces, the second generation Illustra Flex multi-directional camera is equipped with four separate image sensors which can be individually positioned and angled to provide up to 360-degree coverage via four separate non-stitched video streams.
Each of the four sensors are able to capture superb quality 4MP images, enabling the camera to cover an area which might normally require four separate high definition video surveillance cameras. As well as the reduced capital cost, systems integrators and end-users can enjoy additional time and cost savings, as Illustra Flex multi-directional camera requires less cabling and mounting hardware. It also only needs a single IP connection.
The Illustra Flex multi-sensor camera's magnetic base enables each sensor to be independently placed and a three-axis gimbal on each sensor allows their individual fields of view to be finely tuned. This provides users with a multitude of configuration options to provide, for example, 360 coverage of large open office areas, retail stores and car parks, 270-degree coverage when the camera is installed externally on the corner of a building or a 180-degree field of view when the camera is mounted on a wall.
All Tyco Illustra cameras are covered by the Johnson Controls, Cyber Solutions Product Security Program which has been introduced to give all parties in the supply chain the confidence that Johnson Controls has minimized the possibility of introducing vulnerabilities into its Tyco branded electronic security solutions.