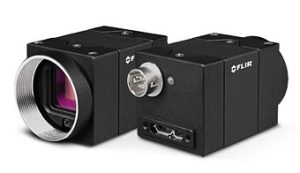 Introducing the latest additions to the Teledyne FLIR Blackfly S UB3 camera line – the BFS-U3-50S4M-C and BFS-U3-50S4C-C.
These 5 MP models are particularly well suited for integration into small handheld devices with their impressive low weight of 53 grams and high pixel density ideal for integrating with compact, less expensive lenses. Leveraging Sony's IMX547 sensor, they deliver exceptional low-light performance with superior quantum efficiency and very low absolute sensitivity making them suitable for a range of challenging applications from biometrics to scientific research and more.
Read along for more detailed specs, pricing and to consult a specialist about the project requirements.
• 5 MP 2448 x 2048 @ 72 FPS global shutter CMOS.
• At 53 grams, the lightest weight camera with IMX547.
• High QE and low noise yield a low Absolute Sensitivity Threshold (4.4 photon AST).
• Superior quantum efficiency (68% QE @ 525nm).
• Excellent low-light performance (2.53 e- read noise).
• Small pixel size enables less expensive, more compact optics.
• High sensitivity (High QE and Low AST) reduces lighting system requirements.