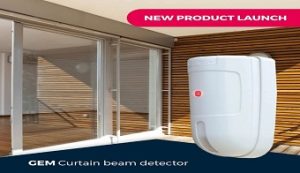 GJD has won the "Best use of Technology" award at The British Security Awards 2022. The BSIA Awards celebrate excellence and commitment in the security industry, making this award a particular achievement for GJD. The awards presentation took place on the 29th June at the London Marriott Grosvenor Square.
GJD entered the unique Lora Long Range Wireless System for the "Best use of Technology" category. The Lora system includes an external motion detector, I/O module, LX speaker and walk tester. GJD has developed the technology to ensure it integrates smoothly with security motion detectors, LED lighting, interface modules and other intruder deterrent equipment. It is designed for long-range connectivity and low-power communications, it operates at a distance up to 2km, and allows up to 500 devices to be used on one system.
Ana Maria Sagra-Smith, GJD's Sales and Marketing Director commented: "It is a great honour for GJD to be awarded the Best use of Technology. The award is testament to GJD's strong focus on creating innovative product technology for the security industry."
GJD's Technical Director, Keith Fenwick said: "Our Research and Development team have done a great job working on the Lora System, their attention to detail has been second to none, resulting in an outstanding long-range external wireless system, which will solve some of the major challenges in perimeter protection".
The British Security Awards is a national event that celebrates the talent and commitment of the security industry's finest. As always, the standard of nominations was exceptionally high, and the judging panel had a difficult job shortlisting the finalists. This is fantastic proof of the outstanding capabilities of the GJD Lora System.