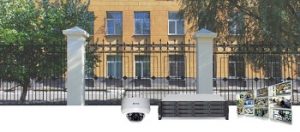 Safety remains a critical concern for schools with violence, burglaries and shooting incidents appearing frequently on the headlines. To capture, alarm, track crimes and create safer learning environments for students and faculties, schools are progressively looking toward integrated and smarter surveillance solutions. Surveon provides education solutions with complete product lines, including high-resolution cameras with extremely low RMA rate, NVRs with premium-grade RAID function as well as feature-rich VMS with real-time video analytics and notifications, ensuring rapid and accurate actions can be taken to protect the students and faculties from threats in time.
In order to upgrade and design a suitable system for schools, system integrators might face some challenges such as wide area monitoring and the integration of access control. Surveon's 3MP cameras provide 1.5-time larger area coverage at 30 FPS and support 3-axis adjustment for flexible hardware installation, offering the best C/P value solution for monitoring wide area. Moreover, Surveon's Video Analytics Series cameras can be installed for areas that might need extra attention, such as hallways or building entrances, to send the immediate alert for possible actions if any.
A reliable storage system that supports 24/7 continuous recording is necessary for school projects. Surveon NVRs provide patent RAID protection and allow partners to easily expand the storage via local SAS port or iSCSI interface to fulfill the demand of campus surveillance.
Surveon Control Center (CMS) can collect data to receive events such as intrusion detection and fire alarm with high I/O, warning the teachers and students across departments and make things under control. The multiple accesses from web, remote, and mobile clients allow security guards to manage surveillance from every concern of the school so that incidents such as theft and vandalism can be stopped in time. Some schools might have campuses more open than the others in terms of boundary so school authorities expect the surveillance solution to offer one easy and consistent access, making security system more efficient on campus. Surveon's products are fully compatible with major third party access control systems, providing both efficient and economical solution for school surveillance.
Surveon's education solutions have successfully safeguarded the Kainan University in Taiwan. "The megapixel video quality and industrial grade designs of Surveon cameras were already very attractive to us. However, we were absolutely sold on the versatility of the CMS solution. We believed this type of setup was beyond our price range before being presented with Surveon's solutions." said the partner in Taiwan