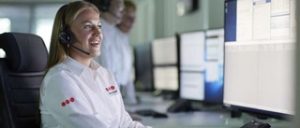 For the first time, Securitas has made the top 10 ranking on Brand Finance annual report on the most valuable and strongest Swedish brands. Securitas has claimed the 8th place in Brand's Finance annual report for 2023, becoming one of the most valuable and strong Swedish brands worldwide. Brand Finance is the world's leading independent brand valuation consultancy (based in London).
With an ambitious brand repositioning strategy launched in 2021, Securitas continues to make a difference in the security industry and provide a range of highly sophisticated, technology and AI-based security solutions while purposefully seeing a different world. Our brand value is placed today at SEK 31.7bn, registering a steep growth of 71.6% in comparison to 2022.
This success is built on Securitas' proud heritage and values of integrity, vigilance, and helpfulness, and which the company believes is through its skilled people and high-impact technology at its core.
Operating in a sector that is directly influenced by global dynamics and emerging threats led the company in shaping a human, innovative and progressive brand that addresses the current trends in industry and society. With sustainability, technological development, and social awareness at the core of the operation model, Securitas aim to assess clients' needs in "a pragmatic, holistic and integrated way".
"Our brand reflects our commitment to a human, progressive and innovative approach to security. That's why we created the brand communications concept "See a Different World.", says Mauro Silva, VP Brand and Strategic Marketing. "Our story is about how an experienced eye sees things differently – and recognises what others miss. We're committed to making the extra effort: seeing the positivity, not only the threats. The potential within the everyday. And to believe in progress, always looking forward, setting our sights on something better. And never losing sight of what is most important to others".