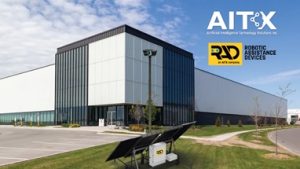 Artificial Intelligence Technology Solutions, Inc., a global leader in AI-driven security and productivity solutions for enterprise clients along with its wholly owned subsidiary, Robotic Assistance Devices, Inc. (RAD), announced the imminent completion of the deployment of 12 RIO 360 solar-powered security towers at a leading auto manufacturer headquartered near Detroit, Michigan.
The client is a Fortune 50 ranked global leader in automobile manufacturing with operations in over 100 countries around the world. The majority of these deployments were facilitated through one of RAD's largest authorised dealers.
"This remarkable client reached out to us in July of this year, inquiring about RIO as a security option at many of their manufacturing facilities," said Troy McCanna, Chief Security Officer at RAD. "We were hosting Police Day on July 13th, and fortunately had a few RIOs at the REX. The client sent several from their security department to meet with us. As expected, they were impressed, and just a few months later we've got 12 devices deployed."
McCanna added that the client's deployment of RIO units has the capacity of exceeding 40 units. "This is such a great deployment for the Company," said Mark Folmer, CPP, PSP, FSyI, President of RAD. "The client and the dealer that's supporting them are 2 of the biggest household names. The fact that they've already deployed 12 RIO 360s marks a significant uptick in recurring monthly revenue (RMR) for the Company. This is validation of years of effort in driving the Company to this point and gives us a significant foothold in the local auto industry."
"The positive word on RIO seems to be spreading," added McCanna. "Just this Monday another auto manufacturer reached out to us for solutions that are available for rapid delivery and deployment."
"Our funding efforts to date are allowing us to procure materials and parts as needed to satisfy this increased demand," added Steve Reinharz, CEO of AITX and RAD. "We can now build and deploy RAD solutions faster than ever. This allows us to rapidly grow revenue as we work towards the objective of becoming cash flow positive."
Sitting atop a standard RIO 360 configuration are dual ROSA units. ROSA is a multiple award-winning, compact, self-contained, portable, security and communication solution that can be installed and activated in about 15 minutes. ROSA's AI-driven security analytics include human, firearm, vehicle detection, license plate recognition, responsive digital signage and audio messaging, and complete integration with RAD's software suite notification and autonomous response library.
Two-way communication is optimised for cellular, including live video from ROSA's high-resolution, full-colour, always-on cameras. RAD has published four Case Studies detailing how ROSA has helped eliminate instances of theft, trespassing and loitering at multi-family communities, car rental locations and construction sites across the country.