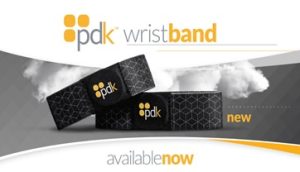 ProdataKey (PDK), manufacturer of the cloud access control platform built for mobile, now offers a unique wristband credential made of attractive, comfortable and durable fabric. These stretchable, slip-on/slip-off wristbands are designed for users with an active lifestyle.
They're ideal for schools, community centres, gyms, public pools and other locations where users may not want to carry a phone, wallet or traditional card or fob. Both rugged and waterproof, they can be worn during any activity.
The new PDK wristband credentials operate with all 125-kilohertz access control readers, including those manufactured by PDK and by competitors. They are available for order in lots of 25. Each measures 1 inch wide and is available with a 6 ½ inch or 7 ½ inch circumference.
"With the introduction of our unique wristband credentials, PDK's anytime, anywhere convenience extends to users who crave a seamless, untethered access experience."
"They can enter secure areas and enjoy their favourite activities phone-free, pocket-free and lanyard-free. Wearing a wristband is as easy as it gets," says Brach Bengtzen, PDK's Director of Marketing.