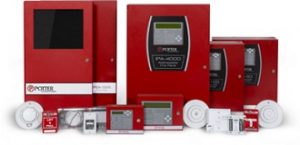 Potter Electric Signal Co. has launched its IPA Series of addressable fire panels, ranging in capacity from 60 to 4,064 points. The panels are said to offer the same enhanced IP features as Potter's current line of panels, but will additionally support a brand new line of addressable SLC devices designed and assembled by Potter in the United States.
The new line of 32 SLC devices, named PAD Modules, is designed to integrate with the IPA addressable fire panels and will make monitoring the panels simple and effective, according to the company. Like the panels, these products are also assembled by Potter in St. Louis.
Potter's IPA Series panels and PAD Modules are only available through the company's Engineered Systems Distributor program.