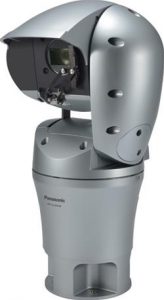 Panasonic Business will introduce what they believe to be the industry's most robust PTZ security camera, designed for the most severe weather conditions and mission critical applications, at Ifsec 2016. The rugged Aero-PTZ (WV-SUD638) has full HD resolution at 60fps with a 30x optical zoom lens. The camera features hybrid image stabilisation technology and gyro-sensors, to minimise the impact of external vibrations.
Designed for applications at height, at sea and on ports, piers and bridges, the Aero PTZ is equipped with 'active sense' technology, responding to external conditions to initiate built-in wipers to keep the lens clear in rain and snow, a heater to ensure internal electronics are operating at the optimal temperature and a defroster to keep the viewing lens clear.
The 360⁰ aerodynamic spherical design helps to minimise interference drag for visual stability in winds of up to 135mph, while the unique radius bodyline helps deter snow and dirt build-up. The light-weight, glass fiber body delivers excellent strength and is resistant to both erosion and salt corrosion.
The camera is IP67 rated, which means it is both water and dust proof, and is vandal proof to IK10 standards. It has a sphere pan-tilt mechanism allowing endless 360-degree panning and a 90° to -180° tilt range. In addition, the super dynamic function ensures a wider dynamic range compared to conventional cameras.
Alongside the Aero-PTZ camera, Panasonic will showcase its newly launched people masking technology, secure communications, rugged mobile camera for transport and intelligent compression technology.