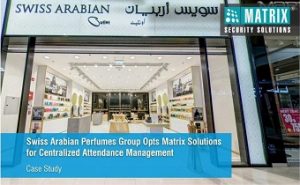 Swiss Arabian is the pioneer of Arabian perfumes that spans over 40 years. Over the years, the Swiss Arabian Perfumes Group has grown from strength to strength. It stands tall as the first perfume manufacturer in the UAE. They operate five modern manufacturing facilities spread across an area of 165,000 sq. ft., producing more than 35 million perfumes annually and exporting the same to over 80 countries.
Swiss Arabian has a prominent presence across several cities in the UAE. Considering this, centralised data management of the employee attendance details, from all the units was critical. Besides, overtime calculation and managing rollover shifts were tedious tasks as well. Furthermore, verifying the attendance data with detailed reports, bifurcated by locations was a part of their key requirements.
Matrix addressed these challenges by proposing a door controller at each location, connected via a centralised platform, COSEC CENTRA, to manage all the data, from one place. This Time-Attendance solution assists them in procuring accurate attendance details of an employee quickly. Through the web-based employee portal, the solution offers efficient leave and shift management. Furthermore, it helped the HR team to generate customised reports in the most efficient manner.
Results obtained after the installation:
• Centralised and effortless attendance management of multiple locations.
• Streamlined shift allocation and automated shift correction.
• Customised attendance policy formation.
• Real-time alert on attendance events.
• Auto-scheduled reporting.
• Efficient employee database management.
• Improved productivity.
Products offered for the installation are: COSEC VEGA FAX – Fingerprint and card based door controller with Wi-Fi and internet connectivity options; COSEC DOOR FOT – Optical fingerprint and RFID card based door controller for time-attendance; COSEC PATH DCFM – Optical fingerprint and RFID card based door controller for time-attendance & access control; COSEC CENTRA PLT – Application software platform; COSEC CENTRA ESS – Employee self-service portal for attendance management; COSEC CENTRA TAM – Time-attendance and leave management module for COSEC software platform; and, COSEC CENTRA ACM – Access control application software for enterprises.