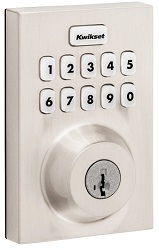 Kwikset brand of Spectrum Brands, Inc. – Hardware & Home Improvement Division, the leader in residential security, will showcase the Home Connect 620, the company's newest Z-Wave connected smart lock, at ISC West 2021.
The Home Connect 620, Kwikset's first smart lock in the "Home Connect" line, features: a 10-button keypad with one-touch locking; and the latest Z-Wave 700 chip technology, which includes the convenience of Z-Wave SmartStart and the security of the S2 framework.
Featuring a sleek, all-metal design and a choice of traditional or contemporary styling, the Home Connect 620 connected smart lock is designed to integrate with a variety of smart home systems and serves as an ideal "entry-level" smart lock. The Home Connect 620 delivers convenience and peace of mind to homeowners with complete remote locking/unlocking via smartphones and tablets, as well as total home control.
An important feature of the Home Connect connected smart lock is the incorporation of the new Z-Wave™ 700 Series chip. The new chip provides a number of enhancements, including extended wireless range and wireless security features that reduce the vulnerability of the network during enrollment, as well as increased battery life.
With Z-Wave SmartStart, users can enroll devices by scanning a QR code even before beginning installation, providing an easier and faster way to gain instant interoperability and control of the Home Connect 620. The S2 framework adds an additional layer of AES 128-bit encryption of wireless signals for increased device security.
The Home Connect 620 can hold up to 250 user access codes and receive notifications from anywhere there is an internet connection through a home automation system. Homeowners can quickly send personalized access codes to family and guests. The Master Code feature of the Home Connect 620 protects commands and settings to prevent lock tampering and can be managed wirelessly for additional security and lock management.