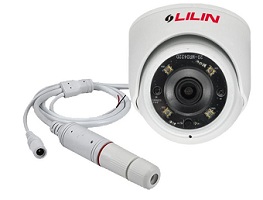 Designed with flexibility in mind, the new LILIN MR6822E2 1080P IP Mini-Dome Camera gives installers a versatile solution for residential and commercial surveillance applications with its unique combination of a small "turret-style" form factor, easy mounting options both indoors and outdoors, built-in video analytics, and IR LED illumination for 24/7 surveillance excellence. Incorporating the company's patented Sense-Up technology, the LILIN MR6822E2 will capture video with exceptional clarity and sharpness in all lighting conditions, along with audio.
Amazingly compact, the MR6822E2 boasts dimensions roughly similar to a tennis ball so it will deliver high-quality performance even in cramped, space-sensitive areas where other cameras can't. It strengthens building safety and security through advanced analytics including Advanced Motion Detection, Tripwire Detection, Traffic Light Detection, and Object Counting, along with secure channel encryption of up to 30 frames-per-second at 1920×1080 resolution.
Easy and secure installation is central to the camera's design with several mounting options available that allow an installer to adapt to the end-user's specific site requirements. The camera can be either wall- or ceiling-mounted, requiring only three screws for faster installation. Also, because the MR6822E2 is ONVIF-compliant it delivers interoperability between any IP-based physical security product to allow installers to design and build a complete, fully integrated IP solution with devices from LILIN or any other major manufacturer. Its wide-angle fixed lens (2.8mm) achieves a far larger coverage area relative to its small footprint, in both day or night, while helping to reduce the number of cameras necessary for full surveillance.
Equipped with a full IP67 rating and aluminum housing, the MR6822E2 is a rugged yet discrete choice for both indoor and outdoor locations. Available in both black and white versions, this low-profile camera blends seamlessly into most environments without disrupting the intended aesthetic, which is an important feature in hotels, homes, fast food outlets, restaurants and corporate offices.