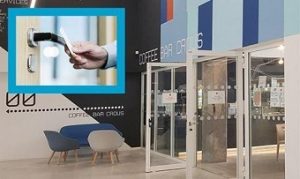 Around 7,000 people pass through the Luminy faculty's suburban campus every day. As part of a major project to modernise two buildings, university managers sought a retrofit-ready access control solution to upgrade security.
University administrators selected Aperio locks to secure doors in the new buildings. With Aperio, facilities staff deal with lost keys more efficiently, and the often laborious process of changing locks and reissuing keys — part of the daily workload with mechanical locking — disappears.
The Luminy campus is now equipped with 372 Aperio electronic cylinders and 42 Aperio electronic handles with built-in RFID readers. Locks are integrated seamlessly, wirelessly and online with Luminy's ARD access control system. One key goal was to deter theft, which was becoming a problem in teaching areas — especially those with computers.
"Since we installed Aperio, we have not had a break-in," says Cédric Lopez, Maintenance Manager at Luminy. The upgrade also provided an easy extension for room management and scheduling. In addition to theft deterrence, Aperio met broad, stringent criteria for the security upgrade. Staff and students carry individual access smart-cards. Doors and credentials are easily programmed and reprogrammed to accommodate everyone's changing access needs.
Luminy's security team has complete control over access permissions and campus traffic — in real time. The new Aperio devices are integrated online and so staff see a "live" overview of the campus and respond proactively to incidents. The new Aperio system protects the most sensitive areas of the campus. "We have critical premises, including for the storage of chemicals, some with radioactive properties," adds Lopez.
Aperio locks are built on an open platform, so they are flexible enough to integrate with the university's room scheduling system. "Teachers are able to reserve their rooms. Students no longer have to wait for the teacher's arrival, because they have access to the right rooms in defined time slots," says Cédric Lopez. The credential students already carry automatically opens classroom doors, if they have pre-authorised access rights. For the facilities team, the ARD interface displays scheduling for all relevant rooms in real time.
Luminy site managers have already scheduled further real-time access control upgrades built around the Aperio wireless technology. As the Luminy project demonstrates, the benefits of Aperio extend beyond enhanced campus safety and student security.