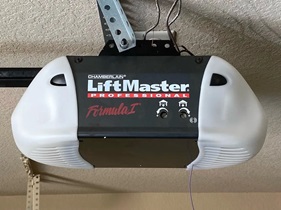 LiftMaster transforms the Garage Door Opener into a sleek smart home device that does more than open and close the Garage Door. Industry leader continues to innovate with features that add control and convenience to daily life to address homeowners' sophisticated lifestyles.
More than 50 years ago, LiftMaster® set out to provide homeowners with an easier way to get in and out of their garage with one of the first automated garage door openers. Fast forward to today, LiftMaster, professionally installed residential garage door openers that continue to set the standard in garage opener innovation and design. Working hard to address the needs of today's busy homeowners and transform the garage into a notable extension of the home, LiftMaster has launched a new line of modernised smart openers equipped with integrated LED lighting, a built-in camera, battery backup and smart home technology.
Pioneered to perfection, the new suite of openers is powered by myQ® technology that enables convenient and secure access experiences and keeps track of the garage system's health for quick and easy service repairs when needed. Their sleek, attractive design replaces the ordinary garage door opener with an aesthetically pleasing and highly functional smart home device.
LiftMaster's new openers include unique features not found in other openers on the market today, including a built-in camera that adds streaming video, recorded events, motion detection and 2-way communication to the myQ app so homeowners can see what's happening and ensure their family and prized possessions are safe and secure.
"The garage has become the main home entry for 70 percent of today's households. It is also becoming an important extension of the home, a multifunctional space that often pulls double-duty as a rec room or a gym," said Jackie Lorenty, senior vice president, Residential, at LiftMaster. "To ensure such an important space is functional, inviting and secure, homeowners need a powerful smart home device that not only reliably opens and closes the garage door but adds value to the home and daily life."