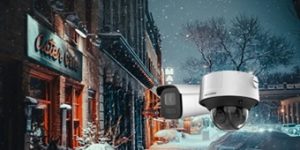 Hikvision, a world-leading manufacturer and supplier of security products and solutions, is offering an enhanced series of AcuSense PCI Varifocal Cameras with DarkFighter low light technology for enhanced image brightness and anti-corrosion technology for exceptional performance in virtually any environment.
"Our PCI Varifocal Cameras are engineered to deliver superior performance in the most challenging lighting and environmental conditions," said John Xiao, Vice President of Marketing, Hikvision USA. "These cameras enable advanced video monitoring in applications that typically require some degree of compromise, which is not the case with this enhanced series of AcuSense PCI imaging solutions."
AcuSense PCI Varifocal Cameras use embedded DarkFighter ultra-low light technology to improve image brightness, reduce noise, and enhance color rendition to deliver high-quality color video in darkness and capture details in low light.
Embedded AcuSense technology allows for the precise detection and classification of humans and vehicles, reducing false alarms by up to 90%. Motion Detection 2.0 is on by default to support more accurate notifications. All AcuSense PCI Varifocal Camera models also support Quick Target Search on the NVR and tag events triggered by human or vehicle targets.
To combat harsh environments, AcuSense PCI Varifocal Cameras are equipped with built-in heaters in the camera housing to protect a wider area from low temperatures between -40 to 140° Fahrenheit. Its NEMA 4x grade anti-corrosion coating helps fortify the cameras in challenging applications, reducing damage and maintaining performance in mildly corrosive environments. The enhanced series of AcuSense PCI Varifocal Cameras are available in bullet and dome configurations to meet a wide range of installation requirements.