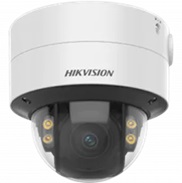 Hikvision, a manufacturer and supplier of security products and solutions, has expanded and enhanced its lineup with the new ColorVu Motorised Varifocal Outdoor Cameras featuring a bullet and dome network camera model.
The motorised varifocal lens makes for easy installation and monitoring, while ColorVu technology delivers colour imaging 24/7. These cameras also enhance human and vehicle target classification with deep learning algorithms. "The latest additions to our outdoor cameras utilise ColorVu technology to deliver unparalleled brightness and crystal-clear images in ultra-low light and complete darkness," said John Xiao, Vice President of Marketing, Hikvision USA.
John Xiao adds, "For users, this translates to increased situational awareness, the elimination of costs and hassles associated with additional scene lighting, and highly-detailed images even in the most challenging lighting conditions."
Hikvision ColorVu technology provides 24/7 vivid colourful images using F1.0 advanced lenses and high-performance sensors. The F1.0 super-aperture collects more light to produce brighter images. Advanced sensor technology vastly improves the utilisation of available light, while 130 dB WDR technology delivers clear imaging against strong backlight.
The new 4 MP ColorVu Motorised Varifocal Network Cameras are available in either a bullet (DS-2CD2647G2T-LZS) or dome (DS-2CD2747G2T-LZS) body style. Both styles are water and dust-resistant (IP67) and vandal-resistant (IK10). In addition to producing superior colour images in dark applications, these ColorVu Outdoor Cameras also feature alarm triggering for human and vehicle target classification.