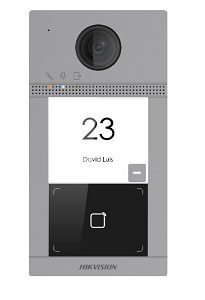 Hikvision has launched its next generation of its IP Villa Door Stations, with improved hardware and software, designed to deliver a simpler solution for installers and end users alike.
The door stations have been designed with ease in mind, also making them cost-effective. They use standard Power over Ethernet (PoE), plug and play, and WiFi technologies to simplify installation. These can provide a fast and convenient power and data transmission. They can be configured online through a step-by-step wizard to help speed up the process. They are flexible for installers too, supporting both flush and surface mounting. The door stations are robust, with protection to both IP65 and IK 8 standards, which protect them against force and water.
A 2MP fisheye IP camera offers sharp, HD images, with WDR function, so users can clearly see who is outside. This provides them with better security, and peace of mind.
Other features include noise suppression and echo cancellation, low illumination, access control functions, tamper-protection, and 2.4 GHz Wifi.
These Door Stations offer a solution for homes, shops, offices and other small buildings. Their simple design and use is enhanced by a mobile app to simplify securing a user's home or small business, even when on the move.