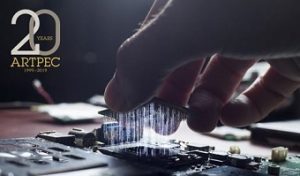 It was late autumn 1999 when products with Axis' very first ARTPEC chip were released. Now, twenty years later, the company has reached the seventh version of the chip, which it says is a product of years of experience, knowledge and passion for high-quality technology and a key part of the company's history.
According to Axis, the ARTPEC chip is a vital component as it provides the basis for essential product capabilities, such as image quality, analytics features and coding performance. They proclaim that it is the "secret" behind the Axis line of highly advanced network cameras.
"Our ARTPEC chips were a small revolution – for us and our industry. While we might not have invented the wheel, we did revolutionize the way video is transferred, adding a lot of flexibility and opportunities for novel applications. The invention of ARTPEC enabled us to develop completely new technologies, such as the Forensic Wide Dynamic Range (WDR), powerful edge analytics and Zipstream data compression technology.", says Stefan Lundberg, Senior Expert Engineer, Technologies, at Axis.
Axis started work on the chip in late autumn 1996, after realising that off the shelf chips were not adequate for their needs, and the company released the first product to incorporate the ARTPEC chip in November 1999 – the Axis 2100.
"We didn't know it at the time, but ARTPEC was the core element that enabled us to expand our offering with small resources from a few products to a complete portfolio that later would revolutionise the surveillance industry," states Stefan. This did not happen overnight, of course, it was a development process. Each generation of chips had its own main goal that was addressed during the development and Axis constantly had to reinvent the way to work since with each generation the complexity grew.
Today the ARTPEC chip is in its seventh generation and much more sophisticated, allowing for sharper images and more precise colours. "The best way to illustrate 20 years of progress is to directly compare the development between the very first ARTPEC chip and our latest ARTPEC-7.", states Stefan, "While the main flow of pixels between sensors and network is the same for both types, ARTPEC-1 only supported the image delivery and offered no flexibility. Putting their differences in context this means, ARTPEC-7 has over 50 times the performance of the first chips while still maintaining the same size and price."