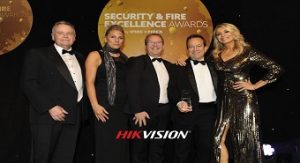 Hikvision has won the IFSEC and FIREX Product Innovation of the Year award for its DS-2TD2136 Thermal Network Bullet Camera at the 2019 Security and Fire Excellence Awards in London.
The DS-2TD2136 camera provides the security market with a powerful, effective and affordable networked thermal camera solution, which reduces the need for lighting and can complement and enhance the coverage of standard video cameras. It utilises cutting edge image processing technology and its powerful behaviour analysis algorithm enables automatic smart detection. At the same time the camera provides a reliable temperature exception alarm function and advanced fire detection algorithm. The camera offers the optional use of 7mm, 10mm, 15mm, 25mm, and 35mm lenses depending on project requirements.
As part of its winning submission for the Security and Fire Excellence Awards, Hikvision detailed the case of Foxlake Dundee, a water adventure centre in the heart of Dundee. In this instance Webster Security & Fire installed a system based on Hikvision's Thermal Network Bullet Cameras, in place of an out-of-hours manned guarding option. Because of its location, night-time trespassing is an issue, and accidental or deliberate damage or vandalism to the equipment is a real risk, as well as the danger of injury or worse to intruders.