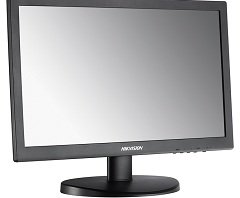 Hikvision has launched a new range of professional LED-backlit TFT LCD monitors specifically designed for security surveillance and control centre environments. Featuring industry-grade panels for sharp and brilliant image clarity, the new Hikvision professional monitor range includes 19", 21" 32" and 42" models. Providing an ideal solution for any general, through to 24/7 mission critical monitoring need, the new monitor range features a wide, 170 degree viewing angle for flexible monitor positioning and viewing, excellent image processing, accurate colour rendition and a quick response time worthy of a truly professional standard display monitor.
Designed for durability, all Hikvision professional monitors feature HDMI and VGA inputs, with BNC (Loop) and DVI inputs on some models. 12VDC or 230VAC powered, they provide installers with simple integration and compatibility with analogue cameras, and DVR/NVRs.
Designed for true 24/7 operation, along with extended panel life for longer operational life span, the Hikvision professional monitor range provides the ideal security and safety display monitor solution for a variety of popular applications; including public space areas, retail and commercial buildings, hospitals, schools, residential areas and transportation hubs.
Available as standard with wall mount brackets and audio input, the new Hikvision professional monitor range offers installers and end-user peace of mind, with their reliable and maintenance free lifetime operation. Supporting general CCTV surveillance applications, Hikvision has also released the DS-D5019QE, a new 19" economical LED backlit monitor. Featuring a VGA, or VGA + HDMI (-B model), the new monitor offers 1366×768 HD resolution widescreen monitoring and thanks to its ultra-high 100,000,000:1 dynamic contrast ratio, excellent image clarity. The new 19" monitor is an effective choice for anyone looking to fulfill an everyday surveillance monitoring requirement.